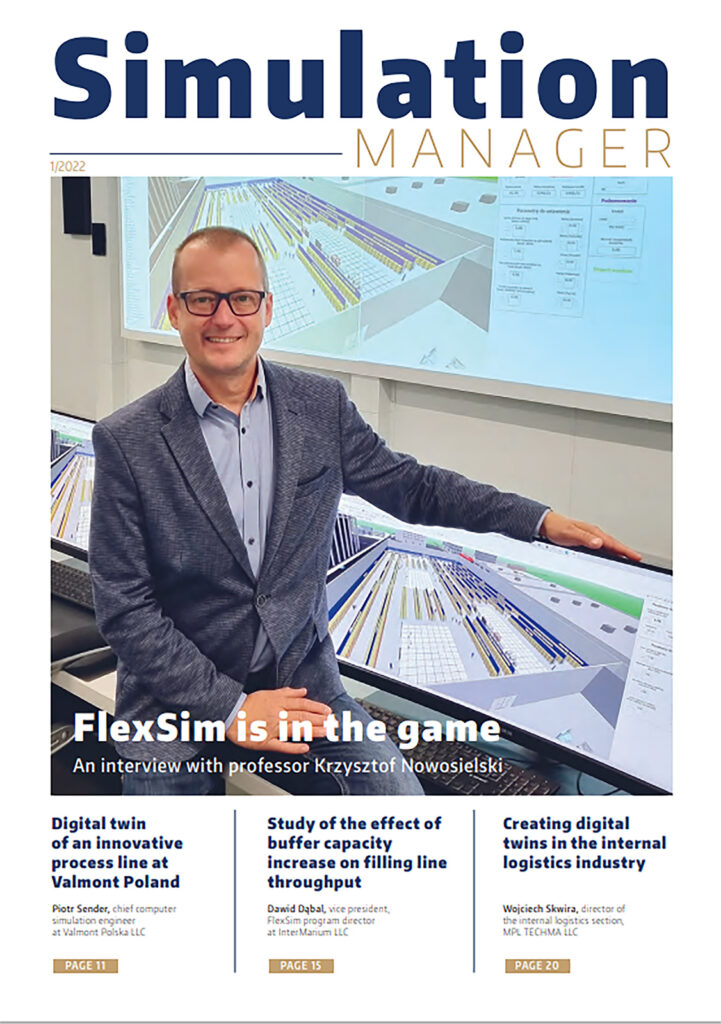 This is a new chapter for the community of simulation modeling and process analysis enthusiasts!
We are incredibly pleased to present you with the first issue of our magazine: Simulation Manager.
It's been created for the elite of business and industry, science, public, and local government sectors – that is, for you. This would not be possible without your support, as we have been privileged to create and develop this unusual phenomenon in Central and Eastern Europe – a community of enthusiasts of simulation modeling and analysis in the FlexSim environment. In order to grow it gradually wider, and at the same time contribute to the accomplishment of your business goals, we are taking up this call.
FlexSim is an innovative computer program with exceptional analytical capabilities, that can quickly process as many experiments, optimizations, and simulations as you need to make the most favorable business decisions and get the best possible results.
In these times of turmoil, we write to you from Aleja Pokoju (eng: the Peace Avenue) 1 in Kraków, Poland, where FlexSim InterMarium is headquartered. From here, we would like to promote the belief that there can be peace and prosperity in the Intermarium, as well as in the world as a whole, and that it will arise as a result of the goodwill, effort, and work of people striving for excellence.
What do we want to share with you in the first issue of our magazine?
An important content about the new capabilities of our software described by Dawid Dąbal in "What's new in FlexSim?".
Valuable examples of applications of FlexSim in the industry in the "Case studies" section.
The interview with Professor Krzysztof Nowosielski, who talks about how he managed to create the modern Business Process Simulation Center at Wroclaw University of Economics and Business.
A column explaining why FlexSim is all about people.
A bit of information about the most interesting recent events for the simulation-driven optimization community, as well as about those for which we are making plans and would already like to invite you to join in their preparation and implementation.
We present a textbook on simulation modeling by Krzysztof Jurczyk that will be a breakthrough in the Polish publishing market.
Showcase the Office of Simulation Projects, which Krzysztof has the pleasure to lead.
Patryk Żuchowicz will introduce you to simulation games.
Krystian Kogut will talk about the Simulation Academy.
Krystian will also acquaint you with our "after-hours" project with the proud name "In Solidarity for the Future".
Finally, to add a bit of levity to the content, we have also created a "SimuLatte" corner for you, with cartoon humor to provide entertainment during a coffee break.
Getting from the idea for this magazine to its release proved to be quite a challenge. First, the saying that "Every idea seems great until it is tried" proved true. Then we turned to the motto of the famous composer Leonard Bernstein: "To accomplish great works, two things are necessary: a plan and not enough time." A good plan saved us because we had really little time…
Therefore, we ask for your forbearance, but do not refrain from constructive criticism. We are committed to making this magazine better and better. Hopefully, it will be a good start, and already in this issue, you will find interesting and inspiring content. Your letters with opinions, suggestions and comments are most welcome. We will try to include the most interesting ones in the next issues.
Everyone is invited to contribute to the magazine. Send your observations to: editor@simulationmanager.online.