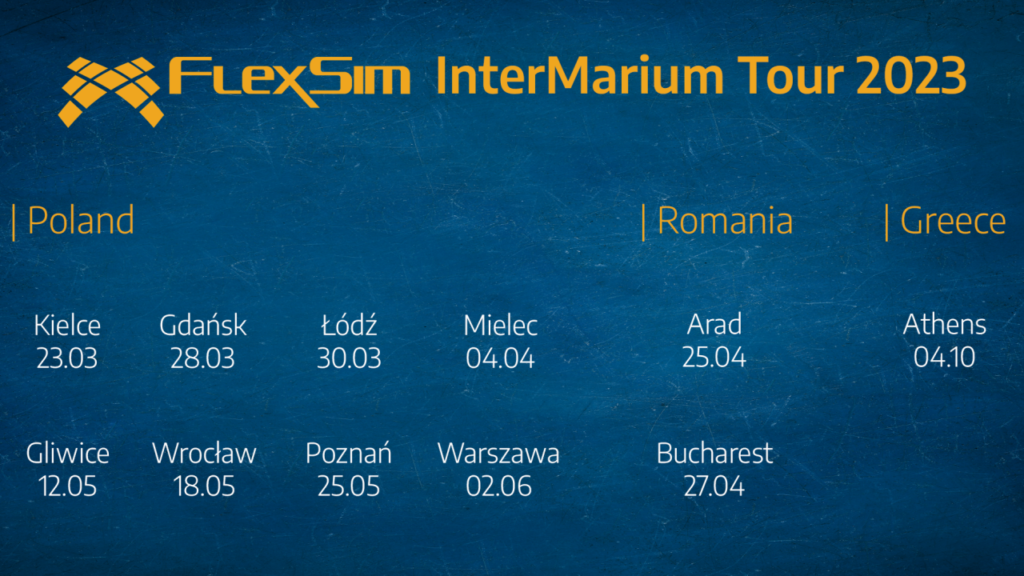 BUCHAREST, April 27
WHAT DO YOU GAIN FROM PARTICIPATING?
We fill our meetings with content that will give you:
#IDEAS #KNOWLEDGE #TOOLS
Knowledge. You will learn from our experts what process simulation is and why to use it.
Our Case Studies, Your Ideas. You will see how we solved problems similar to yours.
Our Clients, Your Ideas. You will learn the opinion of current simulation users, our special guests.
Handy but Versatile Tools. You tell us what you want, and our expert models it on the spot.
High-Tech Tools. You will learn about simulation games and test FlexSim in Virtual Reality.
Discrete-event simulation technology is not new. The FlexSim tool is present on the market for more than 20 years now (!) and is still being dynamically developed. However, the majority of companies in Central and Eastern Europe, including Romania, are using traditional methods and tools, the same for many years, for process analysis and optimization.
These methods and tools, supported by the experience of specialists, are sometimes even effective and do their job well. They have, however, also significant limitations, which modern technology can already surpass. Our mission is to promote dynamic process simulation technology as a vehicle for advances in effective process management.
Now, we are visiting Romania to present process simulation in an accessible way and prove its usefulness in business and education. We want to do this by drawing on our knowledge and experience, presenting specific projects implemented for our clients, and giving the floor to those professionals, who have already discovered the power of simulation for their success.
In addition to the special guest's speech, there will be other special highlights. We want to present our latest product baby – simulation games. An excellent tool for education, but not only. But the real sensation will be a demonstration of top-notch modeling skills in FlexSim by Dawid Dąbal, our Head Simulation Engineer. In front of your eyes, a simulation model will be created that combines issues familiar to managers of both logistics and manufacturing processes. Dawid will try to make sure that it also touches on demands voiced out by participants during registration. There's more! To the model, Dawid will continuously weave in elements suggested by the audience. With all of it, we want to prove the power, flexibility, ease of use, and speed of the FlexSim tool, as well as the level of our expertise.
Sound interesting to you? Fill out the short application form below, select the event you are interested in and wait for your named admission ticket. We do not charge for participation! However, we ask that you treat your registration as a declaration of participation. If you have any doubts or questions, contact me or the co-organizers at Effective Flux!
See you in Bucharest!
Krystian Kogut | e-mail: krystian.kogut@flexsim.pl | mobile: +48 533 322 720
Adrian Someșan | e-mail: adrian.somesan@effectiveflux.com | mobile: +40 745 548 896
Bucharest
April 27
Continental Forum București
Strada Izvor 82-84
AGENDA
8:30 – 9:00
Registration & Morning Coffee
9:00 – 9:05
Opening
Krystian Kogut | InterMarium
9:05 – 9:35
FlexSim EcoSystem 23 in the Intermarium – much more than just products and services
Krystian Kogut | InterMarium
9:35 – 10:00
What is process simulation and how to use it?
Dawid Dąbal | InterMarium
10:00 – 10:30
Special Guest's presentation
The Big Small: How small changes can have a big impact on your business. Simulation is able to prove that.
Marian Cretu, Simulation Ambassador | AD Auto Total
10:30 – 10:45
Coffee Break
10:45 – 12:00
Case Study Show
Dawid Dąbal | InterMarium
12:00 – 13:00
Lunch Break
13:00 – 14:30
FlexSim simulation masterclass: model building show
Dawid Dąbal | InterMarium
8:30 – 14:30
VR Stand
Krystian Kogut | InterMarium
terms and conditions
The conference is organized by InterMarium Sp. z o. o. Participation is only possible only after filling out the application form below. We do not charge for participation! However, we ask that you treat your registration as a declaration of participation. The number of seats and invitations is limited. The organizers reserve the right to freely distribute invitations among registrants and limit the number of participants representing the same entity.
register below