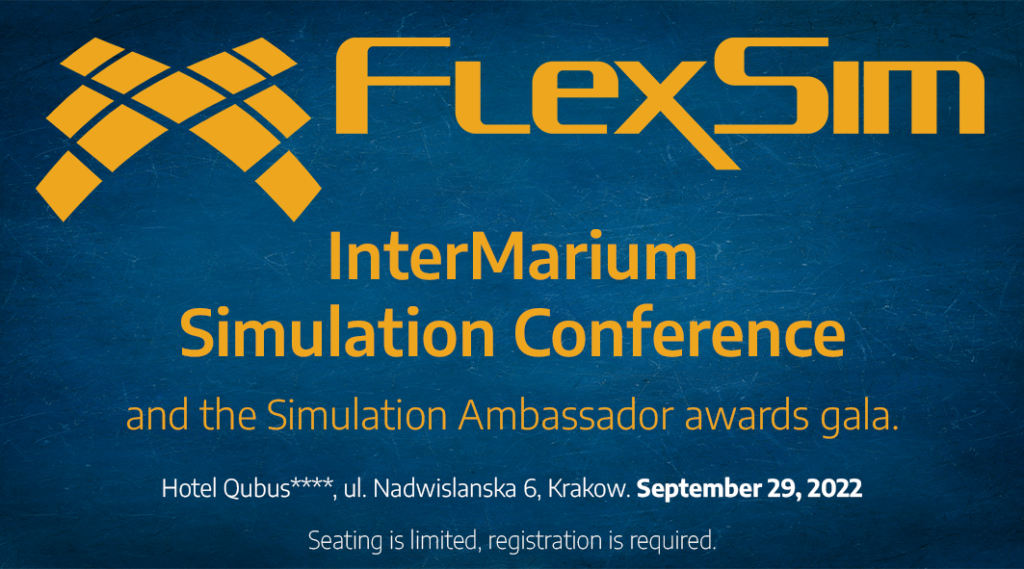 InterMarium Simulation Conference, September 29, 2022
8:30
Registration
Hotel Qubus Kraków, room A, B and C, II floor.
9:00
Opening and introduction
dr. Witold Cempel | FlexSim InterMarium, Poland
Teaching, researching, and applying simulation. A retrospective to create paths forward.
prof. Allen Greenwood, FlexSim Software Products, Inc. USA
Simulation Manager. Presentation of our new magazine.
dr. Witold Cempel, Natalia Witkowska-Cempel, FlexSim InterMarium, Poland
coffee break
Case study: Scalable Auto Building AGV Warehouse
Joshua Stevens, FlexSim Simulation Software, Inc., USA
Case study: Modular Trolley Warehouse
Emily Hardy, FlexSim Simulation Software, Inc., USA
Case study: 'What if?' Humankind's greatest question
Marian Cretu, AD AutoTotal, Romania
Case study: Tripod
František Šrajer, iF3.cz, Czech Republic
coffee break
Presentation of the new FlexSim handbook
Krzysztof Jurczyk, FlexSim InterMarium, Poland
Business Process Simulation Center
prof. Krzysztof Nowosielski, Wroclaw University of Economics and Business, Poland
Virtual decision-making games
prof. Krzysztof Nowosielski, Wroclaw University of Economics and Business, Poland
Patryk Żuchowicz, FlexSim InterMarium, Poland
VR Module
Patryk Żuchowicz, FlexSim InterMarium, Poland
Lunch
Live Simulation Show
Dawid Dąbal, FlexSim InterMarium, Poland
Recent and future FlexSim development
Joshua Stevens, FlexSim Software Products, Inc., USA
17:00
end of the content part
19:00
Simulation Ambassador Awards Gala
Networking
Jazz accompaniment
Mikołaj Budniak Trio
Walk along the Royal Road, September 30, 2022
We meet on 30 September, at 11 a.m. The walk will be led by Krystian Kogut, International Sales Director 🙂
Dear Participants,
The year 2022 is an exceptional year for us in terms of the type, number, and quality of promotional projects.
At the end of May and the beginning of June, we realized 4 conferences under the title "FlexSim. From simulation model to digital twin" in Poland. We achieved a success we did not expect, so we are now organizing similar ventures in Romania. We want to crown the whole thing and pin it down with a substantive buckle.
Therefore, we invite you to our home, Krakow, for the InterMarium Simulation Conference.
From the very beginning, we have set as our goal promotion through knowledge and skills. At the InterMarium Simulation Conference, continuing on the path we have chosen, we will showcase the best of what we have. And even more!
We are expecting distinguished guests. The introductory lecture will be given by Professor Allen Greenwood, an internationally recognized promoter of process simulation and co-author of Applied Simulation (click here and find out more about the textbook), which has been translated into Polish and published by InterMarium. The professor will be also at your disposal, throughout the Conference, at a special author's stand in Hall A. There will be the opportunity to get his book signed. Emily Hardy and Joshua Stevens from FlexSim Software Products, Inc. will present case studies from their own projects implemented in the US. In addition, Josh will present the latest updates and reveal the development plan for the coming year. Our Conference is international, so we have invited speakers from Romania and the Czech Republic. Marian Cretu, representing Auto Total (but also FlexSim user at eMag and Voyatzoglou Systems), and František Šrajer, a freelancer industrial engineer, Business Partner of the InterMarium in the Czech Republic, will present their own projects made with FlexSim software. However, we could not miss a strong, Polish accent. Dawid Dąbal, Vice President of FlexSim InterMarium, will give a demonstration of his master-level skills in developing an interesting simulation model from the scratch. We will also present the latest bookwork created by our team. Krzysztof Jurczyk, InterMarium's Chief Operating Officer, has spent the last six months developing a new self-study manual for FlexSim. Freshly printed textbooks, straight from the printers, will arrive at our Conference. Another big thing we have for you is the first edition of our magazine, Simulation Manager Magazine. Natalia Witkowska-Cempel, managing editor of Simulation Manager, will invite you to visit the stand in the exhibition area (Hall A).
A strong highlight of the Conference content will be the presentation of the VR module by Patryk Żuchowicz, our Senior Simulation Engineer. Patryk has spent the last two years developing the collaboration of the simulation environment in virtual space. Now, he will share the results of his work with you. Next, Professor Krzysztof Nowosielski from the Wrocław University of Business and Economics will introduce the extraordinary project of establishing the Business Processes Simulation Centre (BPSC). Together with Patryk, Professor Nowosielski will present a selection of Virtual Decision Games, the most important component of the BPSC. Moreover, up to two Virtual Reality booths will be at your disposal in the exhibition space, throughout the Conference. The first one will allow you to learn about the basic capabilities of FlexSim with VR and the second one will allow you to test the Games.
At the end of the day, at 19:00 we invite you to the Simulation Ambassador Awards Gala, where the Simulation Ambassador statues will be presented to individuals acknowledged for their efforts in the promotion of simulation technology in our region. The presentation of the awards will be accompanied in an unusual way by a concert of a jazz trio, led by Mikołaj Budniak, a Krakow-based jazz double bassist. We hope that the atmosphere arranged in this way will foster a relaxed relationship between experienced FlexSim users and those who are just preparing to step into this technology.
But it's not over yet! For those most persistent, the following day we invite you to join us for a tour along the Royal Road, led by FlexSim InterMarium's Director of International Sales, Krystian Kogut.
Today, sign up via the registration form below! Stay assured – there will be no shortage of excitement 🙂 .
Information about presentations
prof. Allen Greenwood, FlexSim Software Products, Inc., USA
Teaching, researching, and applying simulation. A retrospective to create paths forward.
By drawing upon nearly 50 years of simulation experience in the US and abroad, Allen offers a variety of ways and means for advancing the practice of simulation.
Joshua Stevens, FlexSim Simulation Software, Inc., USA
Case study "Scalable Auto Building AGV Warehouse"
The model I will be presenting showcases custom objects created to generate AGV paths, storage spots, and conveyors. These objects and the model logic are being reused to model multiple different facilities with thousands of AGV paths each. This saves weeks of work both in placing AGV paths and ensuring AGVs can travel to their destinations without having to debug the AGV paths one by one.
Emily Hardy, FlexSim Simulation Software, Inc., USA
Case study "Modular Trolley Warehouse"
The model that I've chosen to present showcases putaway and order picking in a warehouse. The warehouse runs on a custom trolley system that transports all inbound items to the warehouse, and picks up outbound items, and carries them to staging and shipping. The model uses a GUI to control all inputs, including arrival rates, outbound shipments, the number of trolleys and forklifts, and warehouse size.
Marian Cretu, AD AutoTotal, Romania
Case study: 'What if?' Humankind's greatest question
Since the beginning of human intelligence "What If" was a question with profound implications. Even if at first the impact of doing things in a certain way was limited to a few individuals nowadays it can span over entire organizations. Simulation can help see the benefits of a certain process configuration but most importantly, it can lead businesses on the road to success.
František Šrajer, iF3.cz, Czech Republic
Case study: Tripod
Industrial engineer freelancer story, showing practical approach by using 3 proofed simple optimization tools, applicable at daily operational business to conceptual designs.
prof. Krzysztof Nowosielski, Wroclaw University of Economics and Business, Poland
Business Process Simulation Center
Business Process Simulation Center [BPSC] – project idea and its genesis
About functionality of BPSC – for whom and for what – didactics, business, and research
For enthusiasts – construction of the facility, installed components, technological advantage
prof. Krzysztof Nowosielski, Wroclaw University of Economics and Business, Poland
Patryk Żuchowicz, FlexSim
InterMarium, Poland
Virtual decision-making games
One of the latest products, built using FlexSim simulation software, is simulation games. Their idea was initiated with the implementation of a project for the Center for Simulation of Business Processes (CSPB) at the Wroclaw University of Economics. Currently, the academic staff uses them during their classes. Students, using such products are getting familiar with the challenges of specific issues. As result, they gain knowledge and experience, that will pay off in the future while managing the real system. You will see also some examples of Virtual Decision Games.
Mikołaj Budniak Trio, Poland
The trio under the aegis of double bassist Mikołaj Budniak, comprising Tomasz Białowolski (piano) and Bartosz Staromiejski (drums), performs mainly jazz music standards. The repertoire includes works by such artists as Ch. Haden, P. Chambers, Ch. Mingus or O. Coleman. The musicians who make up the formation have been present on the Polish jazz scene for years, and their craftsmanship is evidenced by numerous national and international awards, as well as recordings. At the link below you can hear one of the latest recordings of the band's leader – Marek Batorski's album Vision Of Village, track The Summer knows: https://www.youtube.com/watch?v=c6OdtnW6q_M.
Rules for participation
The InterMarium Simulation Conference is organized by InterMarium Ltd. Admission to the conference is only for holders of a named ticket, which can be applied for by filling out the form below. For professionals in logistics, production, process optimization, or continuous improvement, admission is free*.
*Free admission is provided for two persons representing a given company/entity. For the rest of the people from a given company/entity, and for all other interested parties, the cost of participation is 1500 PLN gross. For an invoice, please send the necessary details to krystian.kogut@flexsim.pl
Registration form